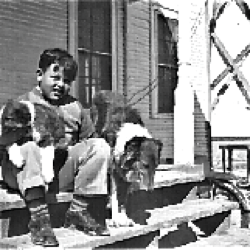 This picture was taken on the steps of our old farm home, 1939 or 1940, the old Grissom Farm that Grandad Todd had purchased and where we were to begin farming with him. We still didn't have electricity, as the tower at the end of the house is for the windcharger dad put up, to charge a battery (on the porch behind me), to run a car radio he had installed in the house. Oh yeah!
We just had to hear:
Fibber Maggie and Molly, Jack Benny, the Green Hornet, and Jack Armstrong!

The big dog is a registered collie, "Lady Nancy Farmey," that mother and dad bought for me. She was also intended to help Barbara overcome her fear of dogs...any dogs! It worked!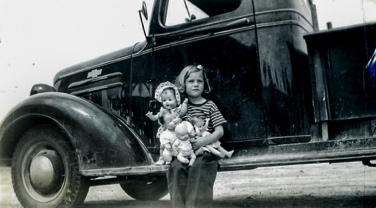 This is Barbara, probably about the same time; she would be about 8 years old. Although the "farm life" was all new to Barbara and I, and pretty austere at first, we thought it was a great adventure!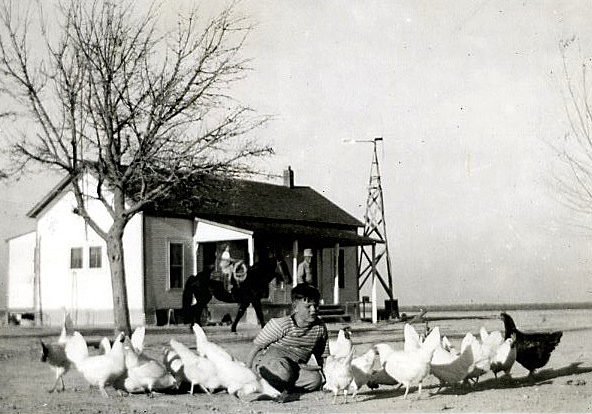 Good view of the old house. I was proud of my chickens, and had made them into pets...if I had some grain to share! Barbara is on our horse, Prince, with Daddy leading her, as she was a reluctant rider!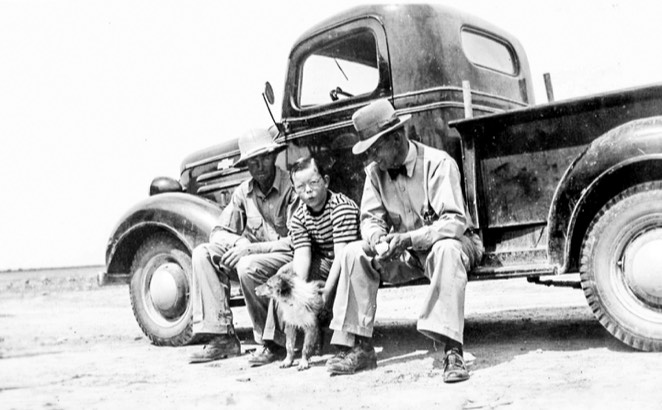 Cyril Jackson, Ray and Neil, posing on the running board of our old 37 Chevy pickup that I learned to drive in... Cyril came from East Texas to work for his Uncle Madison Todd...