The tab "How It All Happened" tells the story of the early Apple User Group of which I'm proud to be a founding member...Check out
my video
, its had over 1500 hits in 24 different countries!
In 2013 our club,
The Apple Corps of Dallas
, celebrated our 37th Anniversary, and three of the founding members were honored: Bobbie Ferrell, George Wruck, and myself. Several on our PhotoSIG took some great pictures of the event. However, David Harned's "talking head" picture of me was my favorite, and deserves to be shared on my Homepage...THANKS DAVE!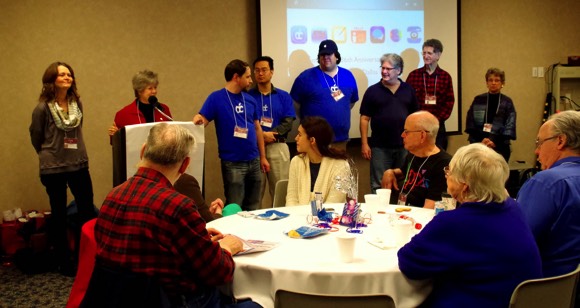 FOREGROUND: Founding members and guests.
BACKGROUND: ACD Board Members who arranged such a great anniversary celebration!
I Always Wanted to be No. 1
All current and former members have a "Member No." in our FileMaker Membership Database. For years, jokingly, I've lobbied ACD to give me Member No. 1, and at the April 2014 meeting it finally happened! In response I said, "FOUNDING MEMBER + OLDEST = MEMBER NO. 1" THANKS!"